Nvidia Corp. this week reported strong sales and profit growth for the quarter ended Jan. 29 as rapid adoption of the company's graphics processing units (GPUs) for budding artificial intelligence applications translated to record revenue and a 183 percent increase in net income.
"We had a record year, a record quarter. And most importantly, we're at the beginning of the AI computing revolution," said Jen-Hsun Huang, Nvidia's founder and CEO, speaking to analysts on a conference call following the company's quarterly report.
Huang went on to say that parallel data processing is vital to the success of this AI, which he called a new way of computing. "And GPU computing that we've been nurturing for the last decade and some is really the perfect computing approach," he said.
Nvidia reported sales of $2.17 billion for its fiscal fourth quarter, up 55 percent from the year-ago quarter and up 8 percent from the fiscal third quarter. The company reported a net income in accordance with generally accepted accounting principles (GAAP) of $655 million, up 21 percent from the previous quarter and up a whopping 216 percent compared to the year-ago quarter.
Nvidia's fiscal fourth quarter sales and profit both came in above Wall Street's expectations.
Nvidia's sales to datacenter applications rose to $296 million in the quarter, more than triple compared to the year-ago quarter and up 23 percent compared with the previous quarter. Automotive sales also grew rapidly, up 38 percent year-to-year to reach $128 million.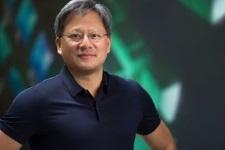 Jen-Sen Huang, Nvidia
Huang said datacenter, gaming and self-driving cars would become even more significant businesses to the company going forward.
"The thing that has really changed our company, what really defines how our company goes to market today, is really the platform approach, that instead of just building a chip that is industry standard, we created software stacks on top of it to serve vertical markets that we believe will be exciting long term that we can serve," Huang said. "And we find ourselves incredibly well positioned now in gaming, in AI and in self-driving cars."
For its full fiscal year 2017, Nvidia reported sales of $6.91 billion, up 38 percent compared with fiscal 2016. Nvidia's GAAP net income for the year totaled $1.67 billion, up 171 percent compared with fiscal 2016.
Nvidia's strong calendar 2016 was enough to move the company to 16th place among chip vendors in sales, up from 18th places in 2015, according to market research firm IC Insights Inc.
For the current quarter, the first quarter of the company's fiscal 2018, Nvidia expects sales to be about $1.9 billion, which would represent growth of about 46 percent compared with the year-ago quarter.